Cookerry CutBoard is a multi purpose board that's created to save you time and space in your kitchen and make cooking simple. CutBoard's 3 in 1 design makes it a great addition to your kitchen, camping and barbecue.                            
CutBoard collapses into less than 2 inches to become a cutting board. The board is made out of durable material that won't dull your knife. It also has spill proof sides that retain fluids so you won't have to worry about cleaning your countertops.
Unfold your CutBoard to turn it into a basket. You can wash your fruits and vegetables in CutBoard as it has a built-in drain plug that lets you to drain water after you're done washing.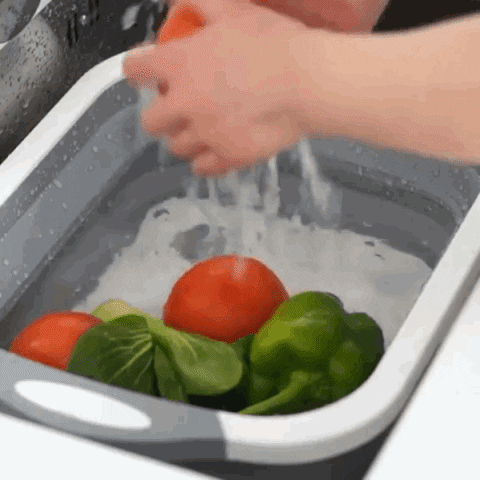 Cookerry CutBoard is perfect for storing fruits and vegetables. It unfolds to 2 different heights so you can fit the CutBoard in your fridge or in a shelf.       
Dimensions
Fully unfolded: Up to 15.7 x 11.8 x 5.1 inch, or 40 x 30 x 13 cm
Folded: 15.7 x 11.8 x 1.1 inch, or 40 x 30 x 3 cm